I've been looking for the perfect baby bedding since before I even knew I was pregnant. No kidding. There are
tons
of different options out there- but most of them are too "cutesy" and "baby-ish" for me. So when I first discovered
DwellStudio
, I was in love. I was
not
, however, in love with their prices.
If you have modern, expensive tastes (like I do)- I found something that you should definitely check out.
It's called
DwellStudio for Target
. The very same designer that I fell in love with makes a line just for Target- and the bedding is JUST as cute, but 1/4 the price.
I actually found bedding in the Target line that I liked
more
than at Dwell Studio's main website! In fact, I went ahead and purchased the "Hippo" bedding set (pictured above) and matching accessories on the spot.
Here are two other designs that I liked. Click on the pictures to see the whole collection.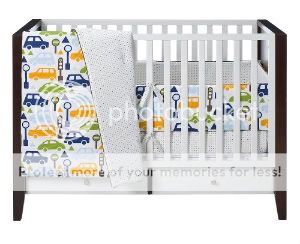 Thanks to Joy from
Joy's Laughter
for suggesting it! :)